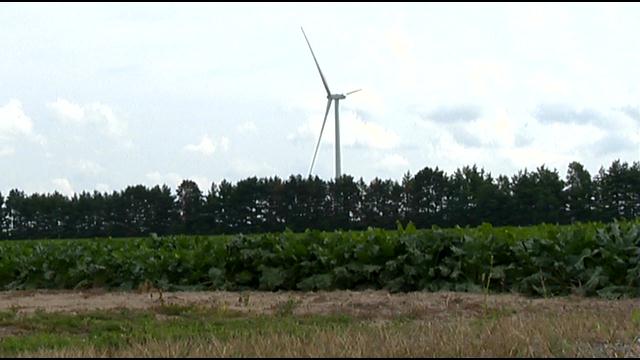 Mid-Michigan is becoming the wind energy 'capital' of the state.

The thumb area now has more than a dozen wind parks completed or under construction. That list includes one being built by Consumers Energy in Tuscola County.

It was 2007 when the thumb got its first wind energy park, and plenty have been added in the past seven years.

"The thumb has become the predominant wind development area in Michigan right now," said John Bullock, of Cross Winds Project manager.

Evidence to back up that statement can be seen by anyone driving through Tuscola, Huron and Sanilac Counties. Soon, more will be visible. Consumers Energy's newest development - Cross Wind park - is going up near Akron.

"We have half of our turbines delivered to this point, so 31 of the 62 total turbines, and we have 17 of the turbines partially erected with the rotors assembled, and then we have eight turbines topped out so far," Bullock said.

A Michigan Public Service Commission report says nearly 600 wind turbines will be operating on farms across the thumb area by the end of this year, with some stretching into Bay and Saginaw Counties.

While some of the early projects faced strong opposition, that hasn't been the case here.

"We've been welcomed warmly in this area," said Dennis Marvin, of Consumers Energy.

Consumers Energy compensates land owners who have turbines on their property and for the energy that is produced. It's also paying some land owners who don't have small wind turbines, but whose property is affected by the park.

"We offer $1,000 a year payment for the life of the project," Marvin said.

Another issue that hindered the earlier parks was outdated transmission lines, but the newly constructed Thumb Energy Loop allows more energy to move from this wind park and future ones.

"Consumers Energy understands wind has a role to play. Wind is powering homes in Michigan," said Dan Bishop, of Consumers Energy.

Once Cross Wind park is complete, Consumers Energy says it will produce enough electricity to power 31,000 homes.